When it comes to women in motorsport, especially for women on the competition side, the obstacles for them a lot of times revolve around money. At a certain point of time in their career, sponsors start to ask "is it possible for a woman to get in Formula 1?" or similar questions, and funding stops there. In many other sports where women and men competes separately, female athletes/leagues fought decades for equal pay, or are still fighting for it, because of mainly the same reason, lack of sponsorship money.
ROKiT Group of Companies (ROKiT Phones, ROKiT Drinks and ROKiT Cities) is one of the first corporations to start investing in women in motorsport, even when their brands and products don't seem to skew towards either side of the gender spectrum. In 2019, they stood behind Claire Williams, the only female (deputy) team principal in Formula 1. Now they are also the title sponsor of ROKiT Venturi Racing Team, led by Susie Wolff, the only female team principal in FIA Formula E, partner of the female only single-seater series W Series, and sponsor for Tatiana Calderon in Super Formula and Alexis DeJoria in National Hot Rod Association (NHRA).
We recently interviewed Bruce Renny, the Chief Marketing Officer of ROKiT Group of Companies, to hear about the story behind their support for women in motorsport.
Tone-at-the-top
Now being arguably the largest private company sponsoring women in motorsport worldwide, it started with the general interest and common practice of creating international brand awareness through sporting activities, "We considered becoming involved as sponsors in various global sporting events. But we discounted the FIFA World Cup and the Olympic Games as they only last one month every four years. Formula 1 seemed a good fit as it has a huge global audience and lasts for some 9 months every year."
Choosing the sport is betting on its long season (it has been getting longer almost every year in the modern era, expanding to every corner of the world, until COVID-19 hits this year), choosing the team is flavored with personal experience of Jonathan Kendrick, Chairman of ROKiT. "Our Chairman Jonathan Kendrick used to work for Goodyear Tyres' racing division some 40 years ago, during which he became a tyre engineer for the Williams F1 team and has since developed an encyclopedic knowledge of Formula 1 and an abiding affection for Williams Racing. We knew Williams were enduring an unprecedented period of poor performance on track, but in that we also saw an opportunity to help support Williams in their time of greatest need so that when the team return to compete for podium places, which they will, our brand ROKiT and our services and products will be entwined in the narrative of our mutual success."
Doubling down
The first deal Williams and ROKiT announced in February 2019 was for three years. Five months later, ROKiT doubled down on their investment in ROKiT Williams Racing. They extended to original agreement to five years, with double the annual investment and the addition of further branding to include on the cars from 2020 onwards. "In so doing, Jonathan Kendrick sent a strong signal that ROKiT is with Williams for the long term and that we have absolute faith in Claire and her team's ability to compete for podium places."
ROKiT didn't stop at Williams and Formula 1. By the end of 2019, ROKiT has expanded into electrical single-seater racing series Formula E, and female single-seater racing series W Series, becoming the title sponsor for ROKiT Venturi Racing and entering into a multi-year partnership with W Series. "Susie and Jonathan quickly reached agreement that ROKiT would become Title Sponsor of the ROKiT Venturi Racing Team. For W Series, there will be ROKiT branding on every W Series car as well as all the drivers therein. After all, the media interest and coverage of women racing in Formula 1 and/or Formula E will be enormous when it happens and exposure will extend beyond the current, existing fans while giving a boost to the number of women who aspire to become professional racing drivers."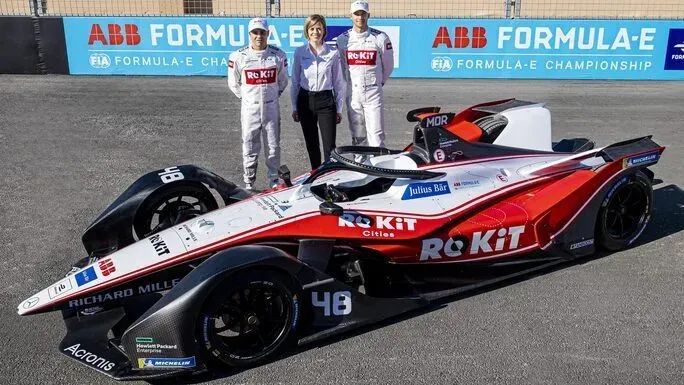 "Claire, Susie, and Catherine (Bond Muir) all share the view that women are under-represented in motorsports and tremendous opportunities will occur when that imbalance is corrected."
Besides working with teams led by women and racing series created to help female drivers develop their skills, ROKiT is also working with individual female drivers. This season, former Formula 2 driver Tatiana Calderon will be competing in Super Formula (currently the first three rounds have all be postponed) with ROKiT's spirit brand Bandero Premium Tequila on her side. Meanwhile, Alexis DeJoria is making her comeback to NHRA after a two-year absence with ROKiT Phones and ROKiT's ABK Beer as her title sponsor. "Tatiana is a tremendously talented driver and, particularly given our growing business interests in Japan, it's a natural extension of our 'Women in Motorsport' ethos to sponsor her in the Japanese Super Formula Championship through our Bandero Premium Tequila brand. "
Engaging with the fans
As mentioned at the beginning, ROKiT Group of Companies have a wide portfolio of brands and products ranging from smartphones, drinks, and smart cities. Now having covered all the continents except for Antarctica with Formula 1, Formula E and W Series, as well as specific focus in North America and Japan, ROKiT can put its portfolio in use for each case. "The ROKiT brand name is the same across all our sponsorships and takes top priority in terms of the scale of branding on cars and team kits. As for the brands, for example, in F1 'light markets' where alcohol advertising is permitted, we promote ABK Beer, Bandero Tequila and Bogart's Spirits in rotation through the season as supporting sponsors to ROKiT Phones. In F1 'dark markets' where alcohol advertising is not permitted, we promote ROKiT Cities as supporting sponsors to ROKiT Phones. Formula E races are run mostly on city circuits, so it makes sense to promote ROKiT Cities. Then W Series is all about promoting ROKiT Phones."
"Approximately 35% of people buy or upgrade their smartphones each year and hundreds of millions of motorsport fans around the world enjoy drinking beer and spirits from time to time."
It hasn't been a very long time since joining hand with Williams in 2019, ROKiT is already seeing benefits from investing in women in motorsport. In even longer term (minus the impact from COVID-19 on all of economy and motorsport), ROKiT expects to see even further fruition from their partnerships in motorsport. "Our research shows that brand awareness of ROKiT is very high among motorsports fans – particularly F1 fans – after just one season with ROKiT William Racing. The sales and marketing teams of ROKiT Phones and ROKiT Drinks are able to benefit from the association of having the ROKiT brand emblazoned on race cars as they conduct their business-to-business sales activities. We are investing heavily to garner unique levels of exposure for our businesses, brands and products right now and, upon their success, even more so in the future. 
As mentioned above, COVID-19 has had an impact on all of motorsport that ROKiT was already involved in. However, ROKiT was able to find a way around in the new form of racing that has been taking the stage in absence of traditional racing on track – virtual racing. At the beginning of April, ROKiT became the title sponsor of The Race's All-Star Esport Cup since its fourth instalment of the virtual racing competition. Bruce has put it perfectly, "If we can't go racing, we'll go racing!"
ROKiT in China:
ROKiT Group of Companies' wide range of brands have also entered the Chinese market. Their ABK Beer can be found in bars, e-commerce platforms, as well as brick-and-mortar stores. Summer is here, time to try out some Bavarian beer with 700 years of brewing heritage.